Blog
Get the latest news from tracezilla
You have spoken and we have listened - 13 new features and improvements in September 2021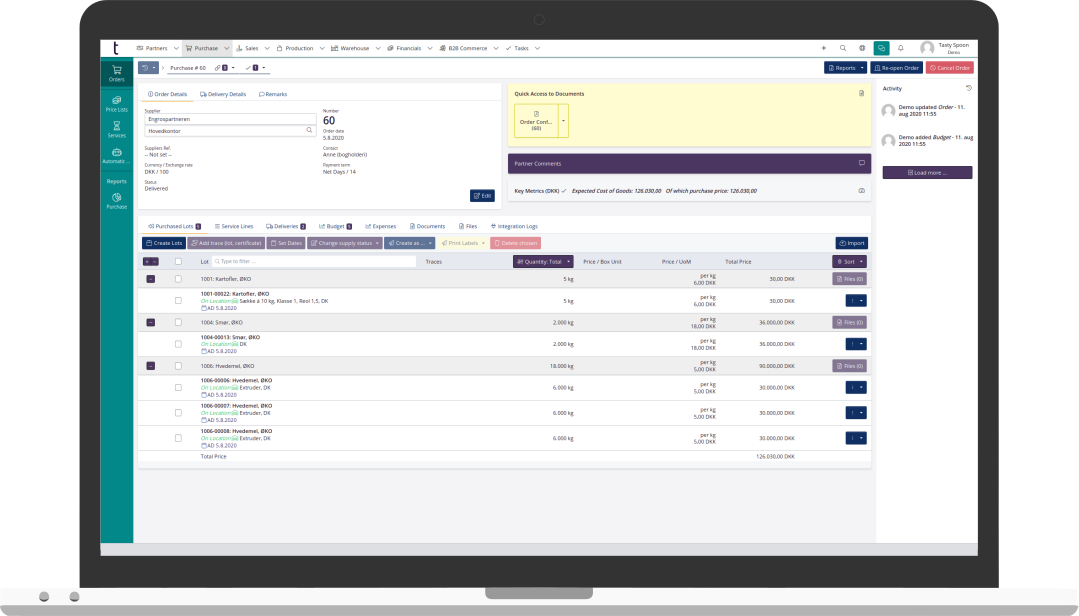 tracezilla is under constant development.
New functions and improvements are made on the basis of customer wishes, along with adaptation to today's requirements for food companies. That way, we are sure that the new features are relevant and compliment the existing features.
Perhaps you have already noticed the new features and improvements?
Scroll down and read about all the latest updates - and get the most out of your ERP system.
Excise duty report for purchase
If you buy taxable goods, we have good news for you.
In tracezilla, you can now generate a report, which can be used as a basis for reporting purchases of taxable goods. By defining an excise duty and entering the taxable quantity on Stock Keeping Units, you are good to go.
In addition, a budget post will be created on orders that include taxable goods. Thereby, the tax is included in the cost price. It makes it easier for you to see how much you are actually earning when you sell the goods.

Read more about how to generate the report here.
Create CMR Transport Document in tracezilla
A CMR consignment note is used as a contract to establish responsibility and ownership between sender and forwarder for road transport. It is a standard document confirming the contract between the two parties, even though the transport of goods by road is in any case subject to the rules of the Convention on the Contract for the International Carriage of Goods by Road.
You can now create a CMR consignment note in tracezilla. The information from the order is used to fill in the document, and additional information such as special agreements are entered when creating the document.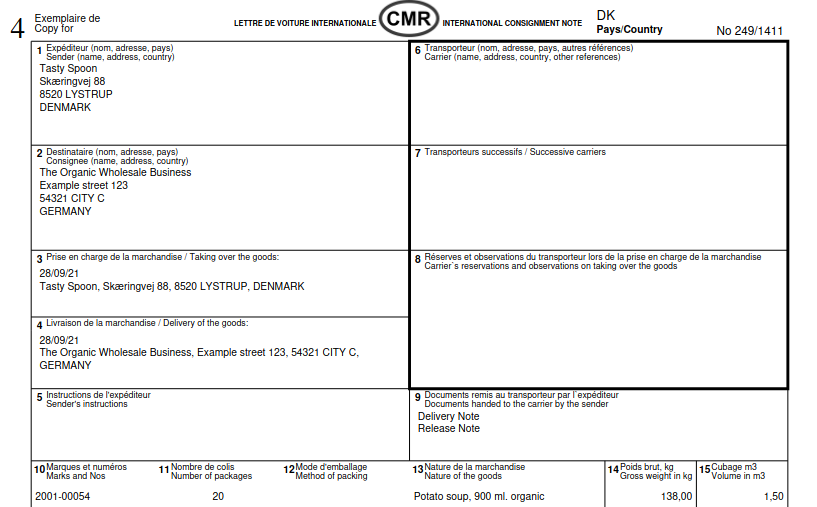 Search and look up in the archive of sent e-mails
Once you are logged in to tracezilla, you can find an archive of all e-mails sent from tracezilla.
Several filters have now been added to search in the results in the e-mail overview. This makes it easier for you to check whether a customer has been sent an invoice, a delivery note has been sent to the forwarder or an order document has been sent to a supplier.
The information can of course be accessed via the order, too. Because it should be easy to have everything in one system.

Day-to-day forecasting
With tracezilla's forecasting function, you can estimate sales and plan production as well as purchases several months in advance. The planning can also take place on a weekly basis and - as something new - on a daily basis.
Day-to-day forecasting is particularly relevant for manufacturing companies that handle fresh goods with short shelf life.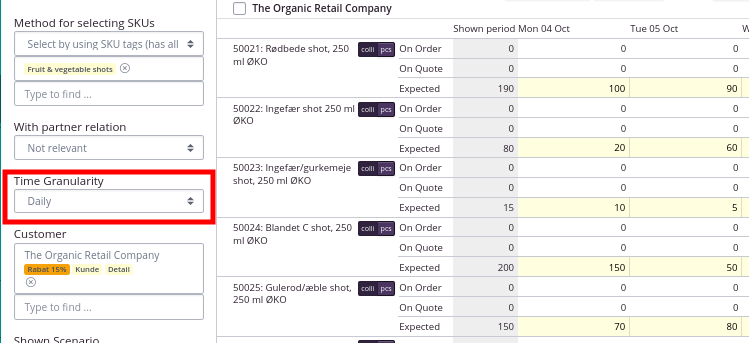 Read more about the forecasting function in the tutorial here
More details in the traceability report
The traceability report in tracezilla makes it possible to trace a batch or a lot of goods back and forth in the supply chain.
By selecting a specific lot, the report shows which customers has received the goods, which ingredients have been used to produce the goods and where the ingredients come from in terms of supplier and other traceability information.
Now more details have been added to the report. It has become easier to orientate oneself in the report - at the same time as it creates an overview of the origin of a product.

Read more about the report here
Reminder about new partner comment added
You can add important remarks and comments to a partner that will appear on orders related to the partner.
The function makes it easier and more efficient to work together internally in the system. When a comment is added, the section will flash red on an order related to the partner. If a partner comment is added within a month, it will be marked as a new comment.

Read more about partner comments in this tutorial
Add internal comments to orders and agreement contracts
Another feature that makes it easier to co-work on order management is internal comments.
It is now possible to add a comment to an order that only you and other tracezilla users can see. When an internal comment has been added to an order, an orange sign will appear on the Remarks tab.
The internal comments are a supplement to partner comments. A partner comment can be used to write a general note to a partner and it appears on all orders related to the partner, while the internal comments are used to write a note to a specific order or a specific agreement contracts.

Internal comments can be added to all orders and to agreement contracts.
Add tags to agreement contracts
In tracezilla you can add tags to a variety of data. Tags are used, among other things, to categorize data e.g. goods which can be divided into raw materials, semi-finished products, packaging, finished goods, etc.
Now you can also add tags to agreement contracts. A tag can be named after important information that is common to some contracts. Once the tag has been added to the relevant agreement contracts, you can easily sort in the overview.

Read more about how to create agreement contracts here.
More filters to search for specific recipes
Searching for one or more specific recipes has become faster.
Two new filters have been added to search in the recipe overview. Now you can, for example, search for all the recipes that contain a specific ingredient in the filter Recipe Consumes.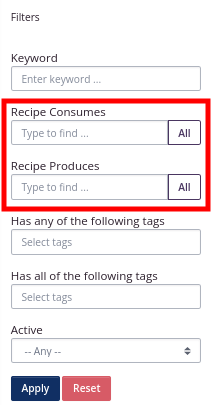 Search for a SKU in recipes and view all lots
It should be easy to search for your data. Therefore, there are filters all overviews in tracezilla and a number of other options for searching for your data.
From the overview of Stock Keeping Units, you can now search for the lots or the recipes that the Stock Keeping Unit is included in.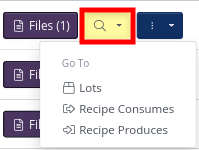 Link price lists to customers or suppliers via spreadsheets
In tracezilla you can download your data into a spreadsheet. The data is downloaded into a template, can be edited and uploaded into the tracezilla again.
It has become easier to edit multiple partners at once with the import template. There is a column for price lists for purchases and sales, respectively. Purchase price lists can be linked to suppliers, while sales price lists can be linked to customers.
Read more about the import template for partners here.
Easily share your tracezilla reports in, for example, Google Sheets
Would you like to be able to share your tracezilla reports without having to provide access to the system? Then this is for you.
With the Direct Data Access feature, your partners or salespeople can view a shared report in Google Sheets or a spreadsheet software. From the spreadsheet software, it is possible to request an update of the figures, which are transfered directly from the report in tracezilla.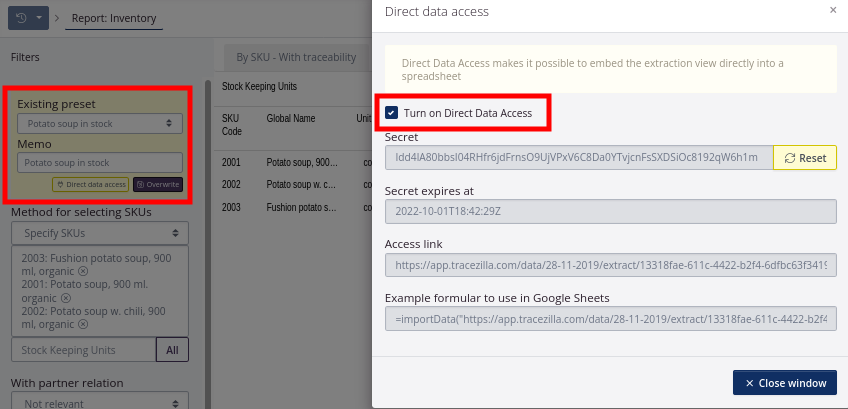 Create your own reports from your data in tracezilla
tracezilla offers up to 17 reports with insight into your data. The reports contain selected information to provide an overview of your information.
If the information in the report is not exactly what you need, you can download the information to a spreadsheet. In a spreadsheet program, you can make additional calculations or remove the information that is not relevant.
The tab Extraction has now been added to the following reports: Purchase, Sales, Production & Yield and Inventory.
With the extraction of data you can create a pivot table. A pivot table is your own custom report that you determine the content of.
The data are presented in tabular form, so that each type of information is in its own column. Then the information is compatible with making a pivot table. At the same time, we have gathered all information in the extract, so that you can make the report that suits your purpose.
Receive our newsletter