13 new features in tracezilla in December

Enter a date of replacement for a current price list
Are you to update price lists due to the new year? Maybe your suppliers have announced new pricing? Or you find the need to make sales price regulations due to increases in costs?
If so, you can use a new feature in price lists. The feature enables you to create a new updated price list, and enter a date of replacement.
tracezilla will then, from the entered date and forward, use the new price list.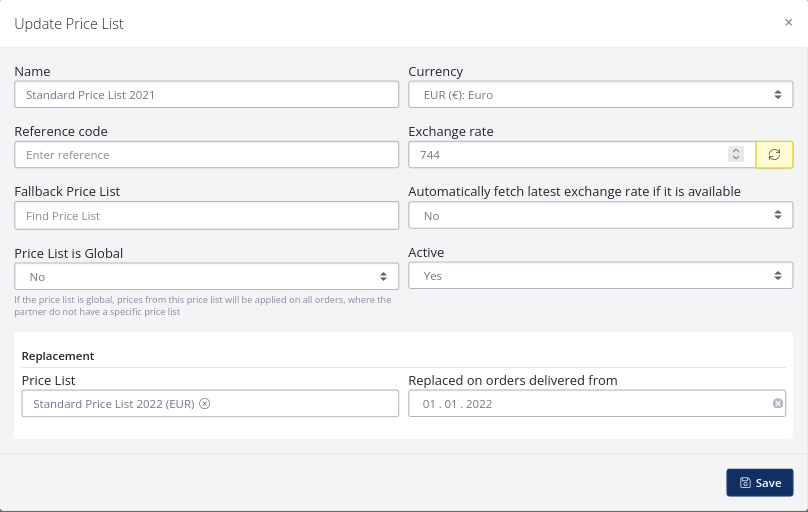 You can read more about price lists and the new feature here.
Fixed exchange rate in price lists
It is now possible to fix the exchange rate of a price list. Thereby, all prices from a price list will be exchanged due to the fixed exchange rate, instead of synchronizing with the latest exchange rate from the European Central Bank.
The exchange rate will otherwise by default be synchronized with the latest exchange rate.
You can read more about price lists here.
Update of the Shopify integration
tracezilla integrates to the webshop platform Shopify. The integration is now updated on two fronts: 1) The synchronization of SKUs, and 2) compatibility with the excise duties report for sales.
Synchronization of SKUs
If you have not already created SKUs in your Shopify account, you can easily transfer these from tracezilla. The synchronization is enabled by assigning a tag to relevant SKUs, and then just clicking Send catalog.
Compatibility with the Excise duties report
tracezilla offers the possibility of generating a report based on excise taxable goods, such as sugar, ethanol, etc. The Excise duties report is based on invoiced goods.
When products are sold via Shopify, both invoicing and payments are done outside of tracezilla, but non the less these products must be included in the excise duties report. Therefore, it is now possible for tracezilla to create invoices based on Shopify sales, and prohibiting the invoices being transfered to your accounting system.
You avoid having to create a seperate report for webshop sales, and minimize the risk of double bookkeeping in your accounting system.
Read more about integrating tracezilla with Shopify here.
Creating a location without traceability
tracezilla helps you secure traceability on lot level, and enables you to track a lot through purchase, production, warehouse transfer and sales.
When products are sold B2C through Shopify, lots are normally picked from inventory without traceability. We have now made this easier for you.
When goods are moved to a location without traceability, the warehouse order will automatically be moved to inventory without traceability. This way, you will avoid having to remember to tick the box every time.

Learn how to add locations here.
Improved functionality in the tracezilla QA add-on
In the tracezilla add-on Tasks and Controls, task management is automated by master tasks being added to orders, recipes and partners automatically.
The master tasks can make use of ressources and contain control points.
It is now possible to add multiple ressources to a task. Furthermore the Week plan has gone through a touch up with more information of the order linked to the task.
Read more about the add-on here.
Add Workflows to recipes
It is now possible to add workflows to recipes. The workflows integrate with the Tasks and Controls add-on.
Workflows can be assigned sequence numbers to automate the process of the production.
A workflow can be e.g. "Prep of production", with an expected duration entered, and a short description of the step, or a explanatory elaboration of a process.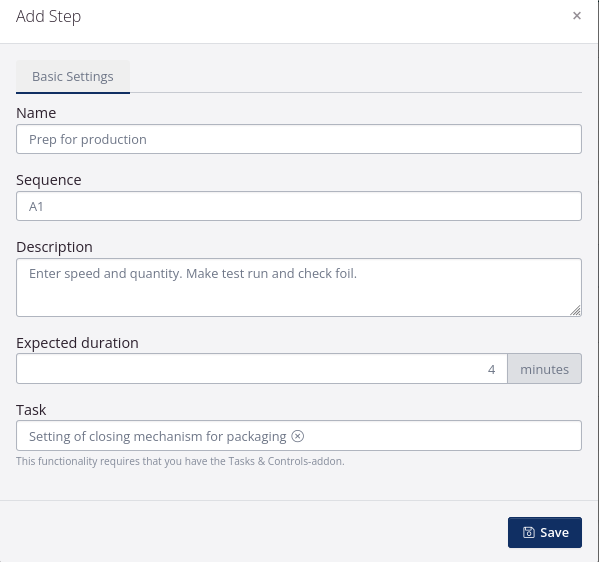 Read more about recipes.
Show/hide pickup address on order confirmations, delivery notes and invoices.
In your company settings you can choose to show or hide the pickup location on order confirmations and invoices. This is especially relevant for direct resales from your supplier to your customer.
If this is only necessary occasionally, you can select and deselect this when creating a document.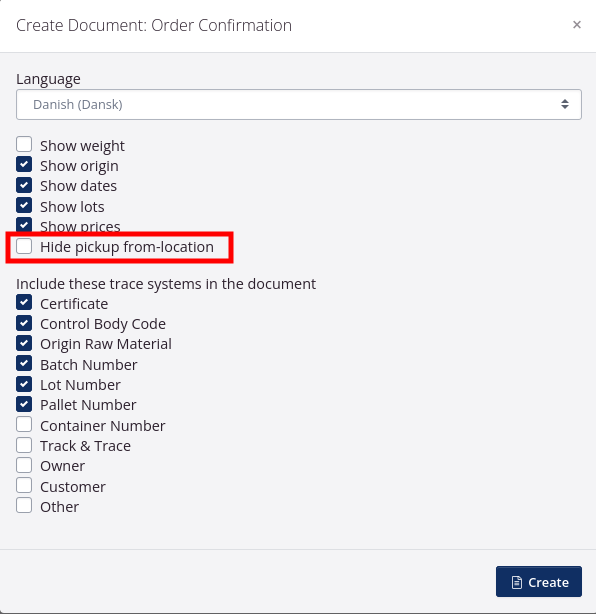 Read more here.
Show country of origin on delivery notes
If you must indicate country of origin when exporting goods, you have the option to show this by a ticking a box. By doing so country of origin will be shown on delivery notes by default.
Find your document settings here.
Catagorize your certificates by certification scheme
In tracezilla you can keep track of your certificates for organic standards, ethic standards, quality management systems, etc.
It is now possible to categorize your certificates by certification scheme. It makes it easier to sort out a specific scheme e.g. FAIRTRADE, although there may be a difference in which company or body is responsible for control and audit.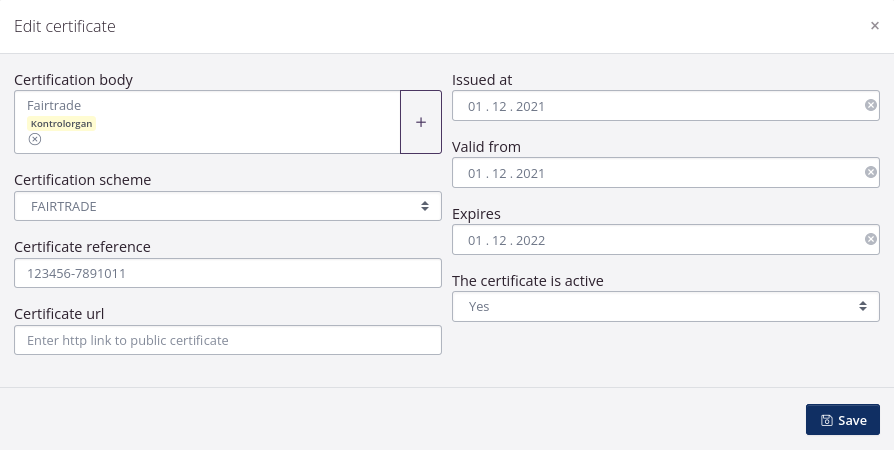 See how the certificates are created here.
Specify certification body on the SKUs easier
You can dowload an excel doument to update your SKUs locally on your computer. The file is a template to be filled with relevant information and then uploaded into tracezilla again. This enables you to add more information at once.
The import template has been updated. Certification bodies now have a seperate tab. This gives a better overview and makes it easier to add certification bodies to your SKUs, thus including them in the Input-output balance.
You find the Import template for SKUs here.
Easily export your data
For tracezilla, it is of the highest priority that it should be easy, safe and secure to store your data in the system. Therefore, it is also possible for you as a user to export your data. In all overviews you will find the Export button in the upper right corner.
You can now download your SKU data divided by type of information. You can easily download the data of choice as a XLSX file.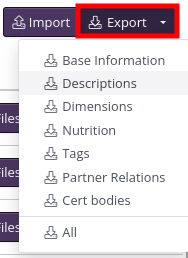 See when your order confirmation was last sent in the order overview
You can now see when an order confirmation was last sent in the overview for purchase orders, production orders and sales orders.

Two new units of measure for SKUs
Metric tonne (mt) and cubic meter (m3) are now available as Units of measure when creating SKUs. These UoMs indicate the unit a product when handled, processed or sold.

Read more about Stock Keeping Units and Setting up Units of Measure for SKUs.
Receive our newsletter