Document Settings
General Settings
You can set up a variety of settings for your documents regarding logo size, layout, information, bank information etc.
Document settings are edited by clicking on your company name in the upper right corner and selecting Company settings.
In the Documents and Templates section, click General Settings.
In the general settings you can do the following:
Change layout from landscape to portrait
Select date format
Select bold font, extra large font size and fixed width (text that can be read by maschines)
Select or change office location that appears on documents
Enter a slogan
Adjust the logo size as it appears on documents. The logo is inserted on your own partner
Enter the bank information that should appear on documents
Remember to click save when you have made changes.
Bank Account Details
Before you create your first invoice in tracezilla, you should enter your bank account details, so customers know how to pay for the sold goods.
There are three fields. The first field will appear on all documents if you have not entered bank account details for alternative currencies.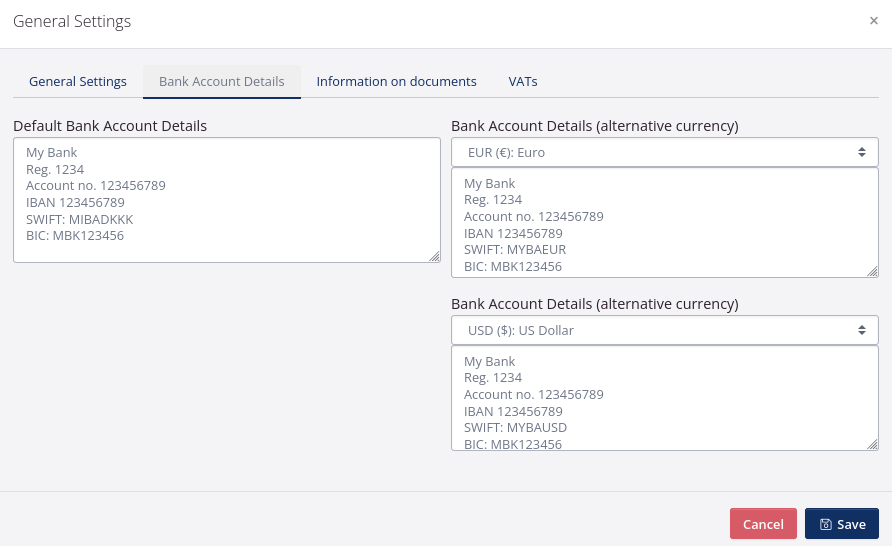 If you need to enter payment details for more than three currencies, you can set it up as default text at the bottom of documents based on language and currency.
Information on documents
The tab information on documents, is a menu where you can tick the information that should appear on documents by default.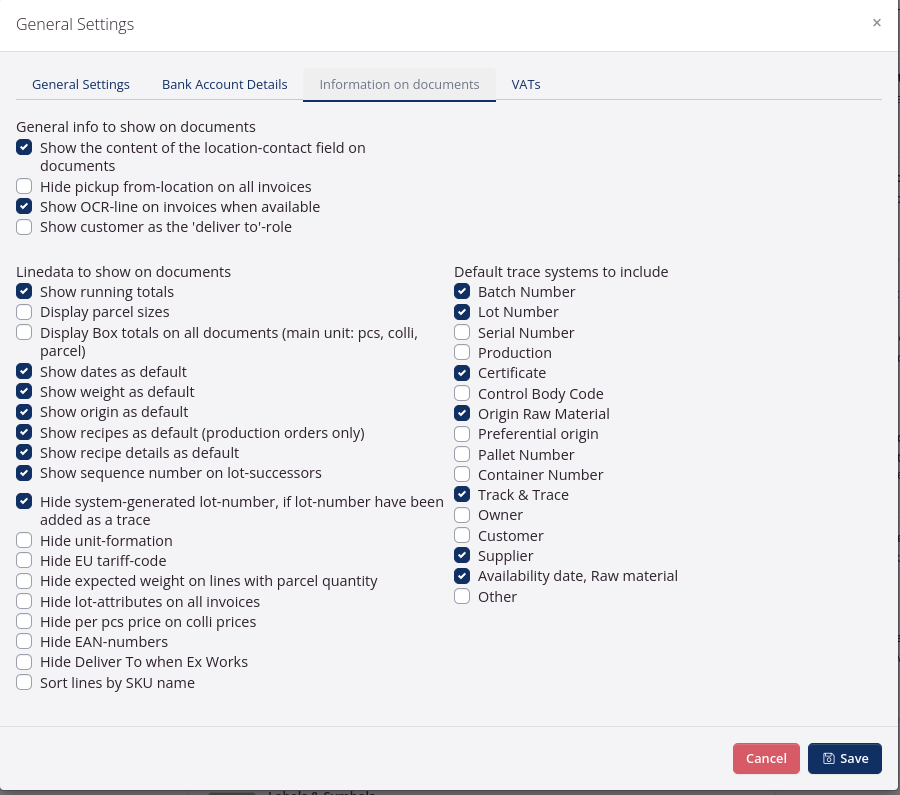 When invoices are created, they will contain the selected information. And have the option to deviate from the default settings when you create the individual documents if relevant.
A dialog window will appear when creating the document. The menu will be pre-filled with the information ticked in the settings.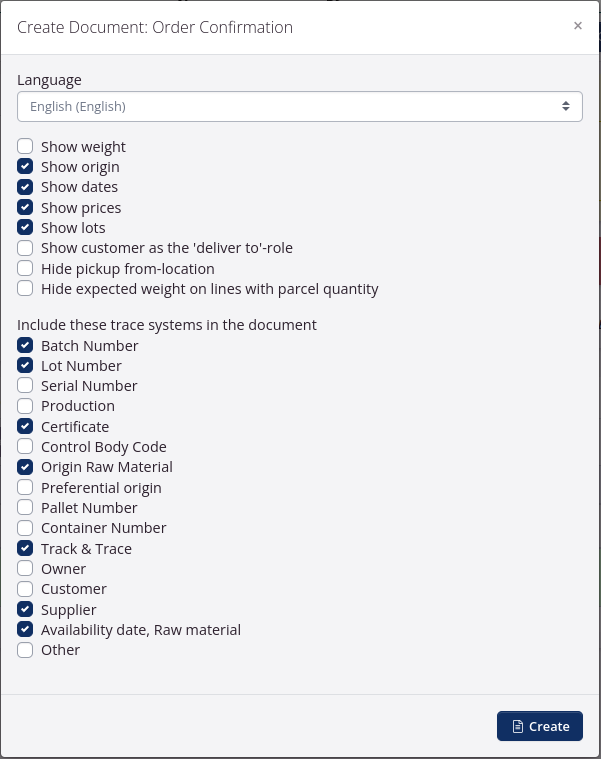 When creating documents, the language is also selected. tracezilla prefills a language based on the partner settings.
If you want to enable multiple languages, read this tutorial. All documents are available in Danish and English. If you enable another language, you can translate the text on documents - then follow the tutorial here.
In the table below, you can read a short description of the informations that can appear on documents:
Information
Explanation
Show the content of the location-contact field on documents
When a location is created for a partner, you can enter contact information of the person receiving the goods or opening hours for goods delivery. This contact information can be both internal or appear in documents, depending on whether you tick here.
Show running totals
If there are several lots for a SKU on an order or a service line has been added to a specific SKU, e.g. if a discount is given on a specific SKU, you can view a subtotal on the line on documents.
Display parcel sizes
If you have enabled parcel settings on a SKU, you can choose whether the parcel size should appear, ie. how many kg, liters or other UoM are in one parcel.
Display Box totals on all documents
Box totals can be used to sum both packages and packages together.
Show dates as default
Date of production, best before and use by date (shelf life) appear from documents, if ticked here.
Show weight as default
When you create a SKU, a net weight and a gross weight are entered. Tick the box here, if the weight is to appear on documents. Regardless tracezilla will still, by default, suggest that weight should be indicated on delivery notes.
Show origin as default
When a lot is purchased or produced, the country of origin can be indicated when the lot line is added. If the country of origin is to appear in documents, tick the box here.
Show recipes as default
When a recipe has been added to a production order, you can choose whether the recipe's name and reference code should appear on the order document.
Hide system-generated lot-number…
To ensure traceability, all lots in tracezilla are assigned a consecutive lot number automatically.

You can choose to hide the system-generated lot number by replacing it with another lot number. You do this by adding the trace lot number to your lot. Of course, the system-generated lot number will still be underlying in the system.
Hide unit-formation
You can tick this box, if you wish to hide Units of Measure on documents.
Hide EU tariff-code
HS codes or customs tariff numbers from the EU Customs Tariff (TARIC) are used in relation to customs, for example when exporting goods. The codes are added as an attribute on the SKU. If you have added the HS code to your SKU, but do not want it to appear on documents, you can tick this box.
Hide pickup from-location on all invoices
In case of direct shipment from your supplier to your customer, you are probably not interested in the customer buying the goods directly from your supplier in future. You have the opportunity to hide the information about where the goods are picked up from on invoices.
Hide per pcs price on colli prices
If you only want your colli prices for goods to appear on documents rather than both pcs and colli price, you can tick the box here. It is only possible to hide the pcs prices if there is a colli price.
Hide EAN-numbers
Tick this box if you wish to hide EAN numbers on documents.
Sort lines by SKU name
By ticking this box lot lines on orders will be sorted by SKU name instead of lot number.
Default trace systems to include
You can add traces to your lots and choose which of these should be visible on documents. Read more about traces in the tutorial here.