Misc. partner
About Misc. partners
In tracezilla it is possible to create a partner for misc. potential customer companies or private customers. If you wish to send samples to potential customers, but do not wish to create them as individual partners in tracezilla, you can create a misc. partner, to be used for multiple potential customers.
When the Misc. partner is added to a sales order, the name of the potential customer will not appear as usual. This name must be added to the specific location. If a name has been entered in the Recipients Name field, this will overwrite "Misc. partner" as the customer name.
By using this method, you can create and send documents for the potential customer. Please notice, that the statistics in reports will appear as one partner, not the individually entered customers.
How to create a Misc. partner
Click Partners in the top menu.
Click Add partner In the upper right corner.
You must enter, as a minimum, Partner Name and Country. The Partner Name can be named Misc. partner (for samples).
Click Save and Add Location.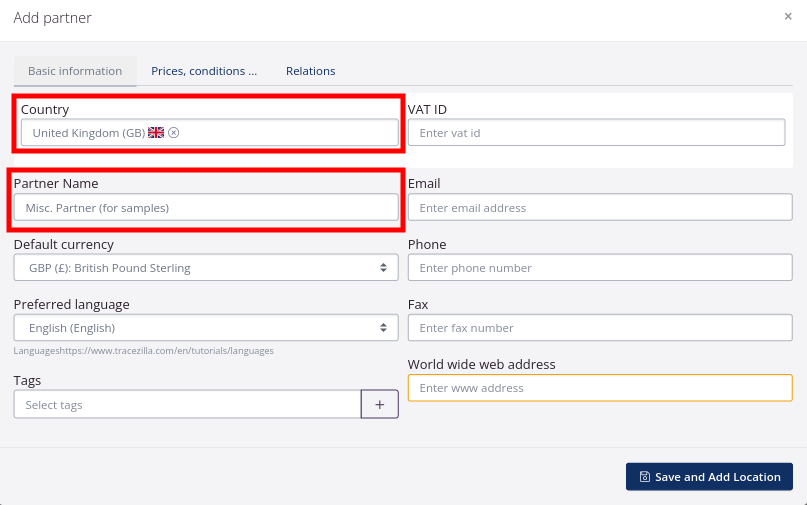 Create Location
Enter a Location name easy recognizable when creating a sales order. The location name is for internal use only, and will not appear on documents.
In the field Recipients Name enter the name of the potential customer.
Enter the address information of the recipient
Click Save.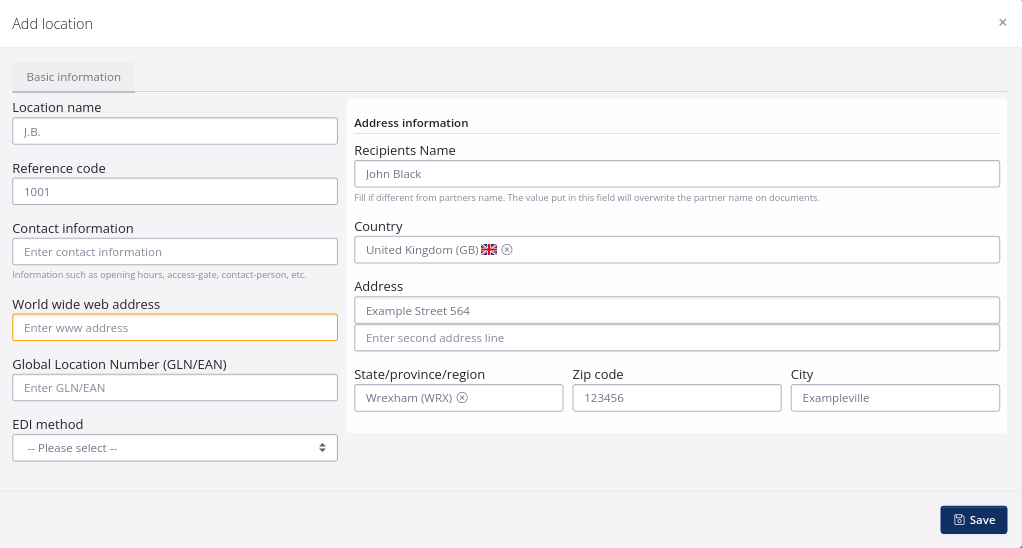 Create sales order for samples
Click Sales in the top menu, and select Orders.
Click Create Sales Order in the upper right corner.
Select the Misc. partner in the field Customer and Deliver to partner, and select the location of the specific customer name and address.
Enter the additional relevant order details, delivery details and remarks.
Click Save.
Add a lot line as usual for a sales order. Enter the quantity of samples in the fields Quantity and Including Free Units.
You can now create documents as usual. Remember to enter the correct e-mail address and edit the message when sending the document!
From now on you can add a new location and contact to the Misc. Partner, when sending samples to potential clients.