Tags
You can use tags to organize and structure your data in tracezilla. Tags are for internal use and will not appear on documents.
Tags have many uses in tracezilla. Tags can be used to filter and search for data in overviews and reports. You can also use tags to build rules for VAT, automation or synchronization with integrations.
Tags can be added to the following data types:
Master data
Other data types
Suggestions for uses of tags
SKUs can be categorized by assigning tags. The most common are Raw material, Finished goods, Packaging and Labels, Organic and Conventional. You can add other tags like soft drinks, colonial goods, bulk etc.
Tags can be used for setting up rules for partners, like VAT exemption and more.
Partners can be organized by tags, e.g. Customer, Supplier, etc.
Order tags can be added to Contracts, to indicate which orders are to be included in the progress of an agreement contract.
Tags are often used for synchronizing data in tracezilla's Built-in integrations.
How to add a tag
You can see and edit all your tags in your Company Settings.
Click your company name in the upper right corner and select Company Settings in the drop-down menu.
Click Tags in the sub-section Structures and Classifications.
To add a new tag, click Add New in the upper right corner.
Enter the Name of the tag.
Select which content the tag should be available for.
You can select a Color code to highlight the tag. This is optional.
You can select a Class, e.g. Brand, product group, etc. This is optional. This can be relevant for integrations. Read more about tracezilla's built-in integrations.
You can select a Sort order, i.e. how a tag is ranked to other tags. 1 is the highest sort order and 2 will be sorted after 1.
Click Save.
You can create tags on the go when you need them. Look for the +-symbol when creating orders, partners, service lines, SKUs etc. in the field Tags usually located in the tab Remarks in the order header or in the bottom of the dialog box.

Do you like using Excel or other spreadsheet programs? You can create tags using the import templates in tracezilla for partners, SKUs and recipes for example. Take a look at the tutorials for the individual import templates for more information.
Use tags to search in overviews
Tags are ideal for searching lists of specific data in overviews. By dividing data with tags, it becomes easier to overview and customize your data.
The filter Has any of the following tags is used to search for results that have at least one of the tags that are used to filter. The filter expands the search to more tags.

The filter Has all of the following tags limits the search to the results that have the combination of tags that are searched for. The results will thus have all the tags that are used to filter.

The filter Doesn't have any of the following tags works opposite to the other tag filters, by excluding results with the tag(s) in question.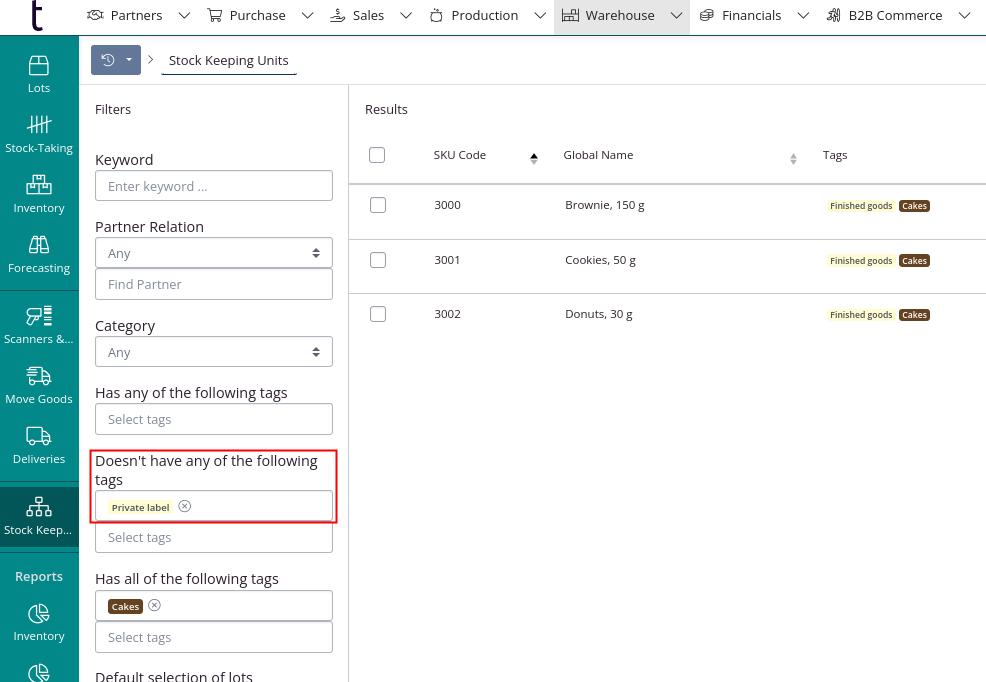 Contact tracezilla Support, if you need help or guidance. You can see our opening hours at www.tracezilla.com