Print colli labels and explore six new features

Print labels with product information
We introduce a new type of label in tracezilla. Now you can print a label for your colli boxes with ingredient list, shelf life specification, preparation instructions, bar code and much more.
The information for the new labels come from the SKUs. You decide exactly what information should be on your label by entering it as product information.
As a tracezilla customer, creating and printing this type of label is completely free.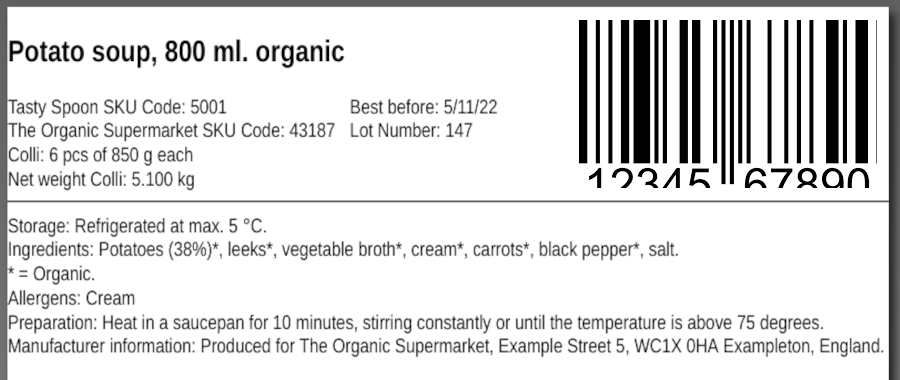 Do you also want to be able to print the new colli label? Read more here.
New trace: preferential origin
Does your company export goods? And does it ring a bell when we say preferential trading? Then the new trace Preferential origin may be relevant for you.
The new trace is used as documentation of last change of tariff code. It is used in preferential trade in the EU and certain other countries in accordance with EU Commission Regulation No 2015/2447. Traces are added to lot lines on inbound orders.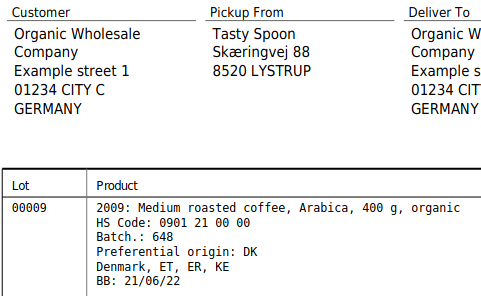 Read more about the traces in tracezilla here.
Indicate raw material consumption as a percentage in recipes
Bill of material, formula, ingredients list, recipe. The list for production is know by many names. In tracezilla, we call it recipe because tracezilla is created by and for food companies.
With your recipes in tracezilla, you can easily create a production order and print a picking list with the quantities of the raw materials that are calculated for consumption based on the recipe.
Now you can create your recipes in tracezilla by indicating the raw material comsumption as a percentage. tracezilla automatically converts the percentage to an actual quantity based on the net weight of the end product. For example, 38% of 850 g = 323 g.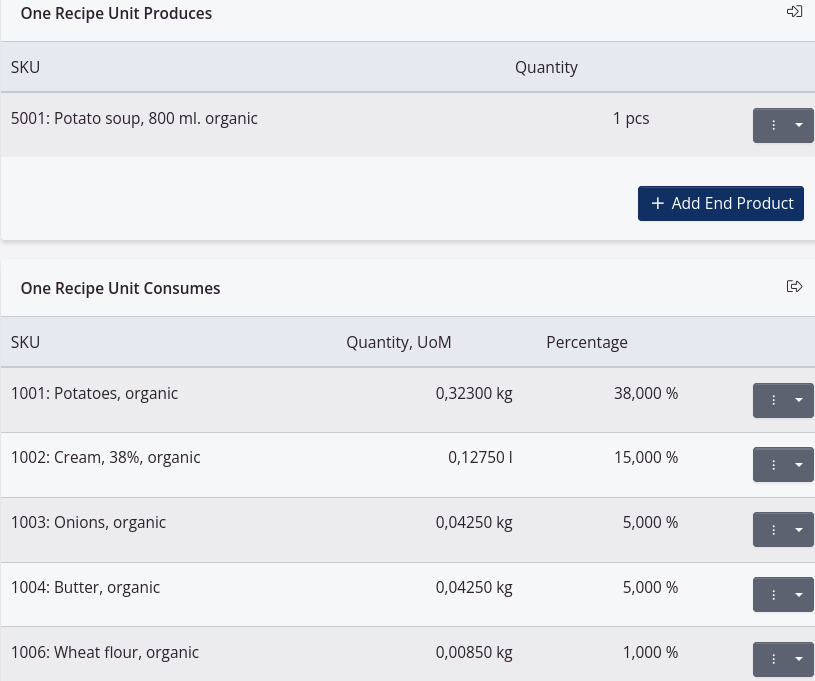 Read more about recipes here.
Automation via data exchange with JSON files
A new button has been added to all orders to download a file. Maybe you have already noticed the little orange button?
The file is downloaded in JSON (JavaScript Object Notation) format and used for electronic data exchange between the application and a server. JSON is a standard file format and can be opened by a variety of applications.
Automation systems can read the file, which can trigger an action. It can be printing labels or starting a production line.

Read more here.
New filter and a new tab in the sales report
With tracezilla's sales report, your sales figures are gathered in one place.
The report provides the opportunity to apply filters e.g. to see sales figures for specific customers, countries, SKUs, etc. You can also change the perspective of the report using the tabs and see the sales figures by order, by SKU, by month and more. The combination of filters can be saved and the report can be shared via direct data access.
Now there is a new filter Deliver to and a new tab By Deliver To in the sales report. For example, use the filter to gain insight into which products you sell the most to the individual store or location. The tab can let you know where the biggest revenue is coming from - literally.
You can of course also use the filter Deliver to in the report Invoiced.

Read more about the sales report.
Is a lot created on the wrong order?
Have you discovered that a lot is on a different inbound order than intended? And that the goods have already been sold and invoiced? We know that sometimes mistakes can happen. And that is okay.
You may already know the feature Reopen order, which is used if you need to correct in quantity, price or similar on an order that was otherwise closed. Now there is another tool to correct the order.
tracezilla ensures traceability by assigning each lot a lot number on the inbound order. You can therefore always trace the goods back in the supply chain and see which order the goods came from.
The new feature allows you to move one or more lots from a specific purchase order or production order to another inbound order. This may be the case if a lot is placed on the wrong order, while the other lots match a document belonging to the order.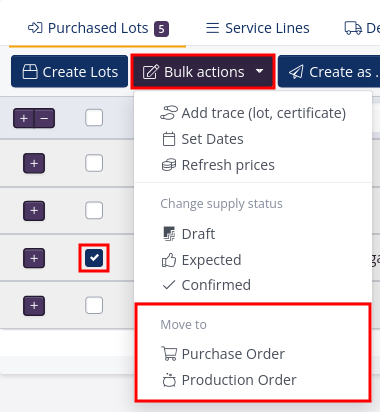 Read more in the tutorials for purchase orders or production orders.
Shortcut to add traces
You can now even more easily add traces to your lots. There is a shortcut button directly on the lot line.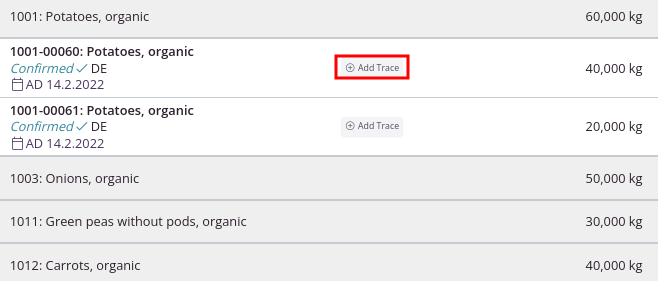 Read more about traces to ensure traceability.
Receive our newsletter