2 new documents and 12 improvements in march and april

Massive update for tracezilla on mobile devices
On your mobile device you can create a shortcut to tracezilla. The mobile version is updated and the interface is now much simpler and user friendly.
The mobile version of tracezilla has been modified to focus on the features which can be especially beneficial to access by your device.
From the new home screen you now have more relevant options, e.g. when receiving goods. It is now easier to split a delivery, if some goods are in backorder, or damaged during transport.
It has now become much easier to add traces for traceability to the individual lots - when receiving the lots.
Furthermore it is now possible to scan a pallet label barcode, and thereby upload encoded data.
All this saves you time and minimizes the risk of errors.
If you are subscribing to the tracezilla Tasks & Controls add-on, all order related tasks will be shown at the top, thereby enabling easy access and completion when e.g. doing receive control.
In the Pick and Dispatch menu you can easily select lots directly in the order. This is possible for sales orders, warehouse orders and production orders. If you are using the tracezilla QR-code labels, you can simply scan the code and enter a quantity.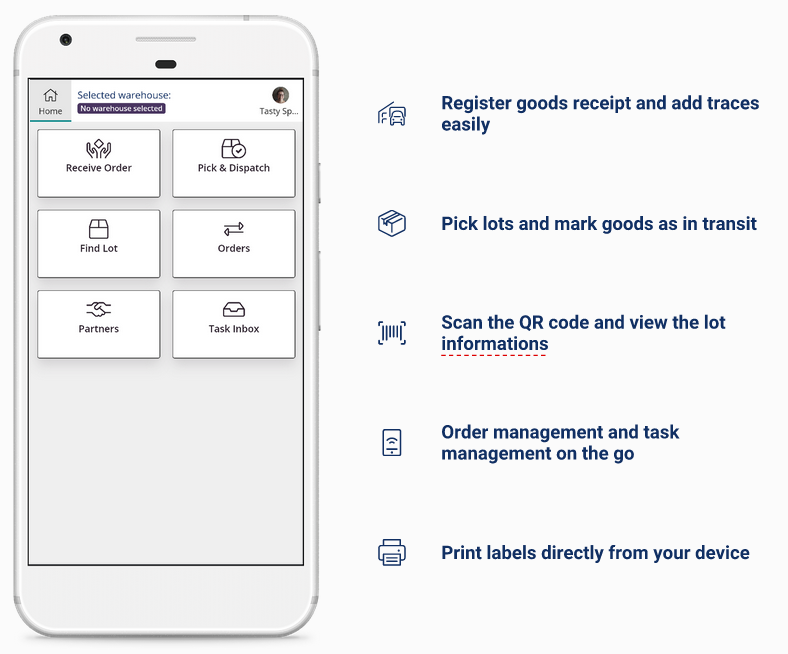 See how to create a shortcut for tracezilla.
Send a debit note when returning purchased goods
You can now create a debit note in tracezilla. The debit note can be created e.g. when sending back rejected goods. The document enables you as a customer to request a supplier to credit some or all of the purchased goods on a purchase order.
The debit note can also be used for internal documentation of returning goods to a supplier.

Read more about how to create a debit note.
Create a consignment note for transportation
A brand new document type has been added to the portfolio. You can simply tick the boxes of relevant orders and print the consignment notes for your carrier.
The consignment note differs from the order delivery note by including information of order marking in the header. Furthermore the consignment note does not show product pricing.

Special reference marking of orders
A new field has been added to orders, enabling adding additional references or other important information, that is to be shown on documents. This can be a specific customer reference, a container number, and more.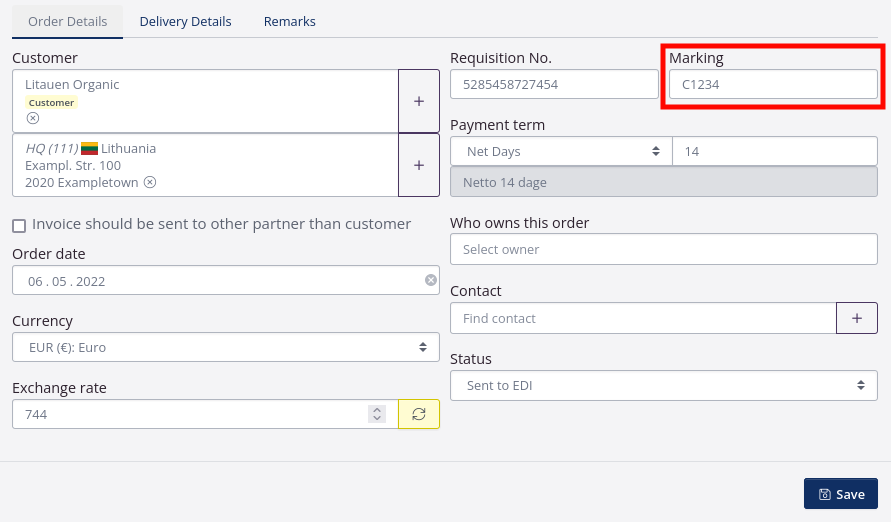 The information is optional. Marking can be added to purchase orders, production orders and sales orders.
Create automatic budget posts
Your time is important. This is why tracezilla has many automized features for order management and warehouse management.
If you wish for a cost to automatically be added to sales or purchase orders, without appearing on documents, you can now create budget posts which are automatically added to orders, according to specific rules.
For example, do you pay the same amount for transportation to a carrier when selling goods to a specific customer group? You can set up the automatic budget post to avoid entering the cost manually every time.
You may already know how to set up an automatic service line. Service lines will appear on invoices, and the customer will be invoiced the entered amount. A budget post represents your cost related to the order, and will not appear on documents.
A budget post contributes to a more accurate calculation of costs related to order management, i.e. a more accurate calculation of your sales order contribution margin.
Read more about automatic budget posts.
Add certification schemes quick and easy
It has now become easier to add a certification scheme to certificates. Previously, the certifications schemes could be selected from a list of predefined schemes.
In order to maintain a clear overview of the schemes and at the same time make the list more relevant for each individual company, the schemes are now custom. So you have the opportunity to add the certification schemes, whether it be organic, Fair trade, BRC, IFS, MSC etc. Once a scheme has been added, you simply select it from the list.
Recalculation based on a recipe - even for confirmed production orders.
In tracezilla you can create a production order based on a recipe. The recipe is automatically added to a production order if the order has the status Draft when entering the end product. The draft status is used when planning a production which has not yet been fully confirmed.
In a draft order you kan easily adjust the quantity of end product. The consumed lots will automatically be synchronized equivalent to the recipe.
At the end of production you have to be able to do production registrations, which is why the order is locked when confirming the order. By this you can easily adjust the quantities of consumed and produced lots independently.
If you realize the that you need to update the quantities of consumed lots according to the recipe, and the order has already been confirmed, we have great news for you. There is now a feature to recalculate the order according to the recipe - even when the order is locked.

Read more about production orders.
Enter an order for the display of tags
In tracezilla tags are used to catagorize information, e.g. to divide your sku numbers into custom groups. tags are used for searching, filtering and limitation.
You can assign different tag colors to easily recognize certain product groups. Now, you can also assign an order of which tags are to be seen in an overview, if a SKU is assigned more product groups.

Read more about tags.
Hide the weight of specific products on documents
It can be practical to know the weight total of a delivery, when booking transport. However, if you do not know the weight of your pallets and packaging you can now limit the weight appearing on documents.
In your document settings you can enter whether you want the weight to be hidden or shown on documents. If you select the weight to appear, it can be relevant to hide the weight on logistic units, but still show the weight of the delivered lots.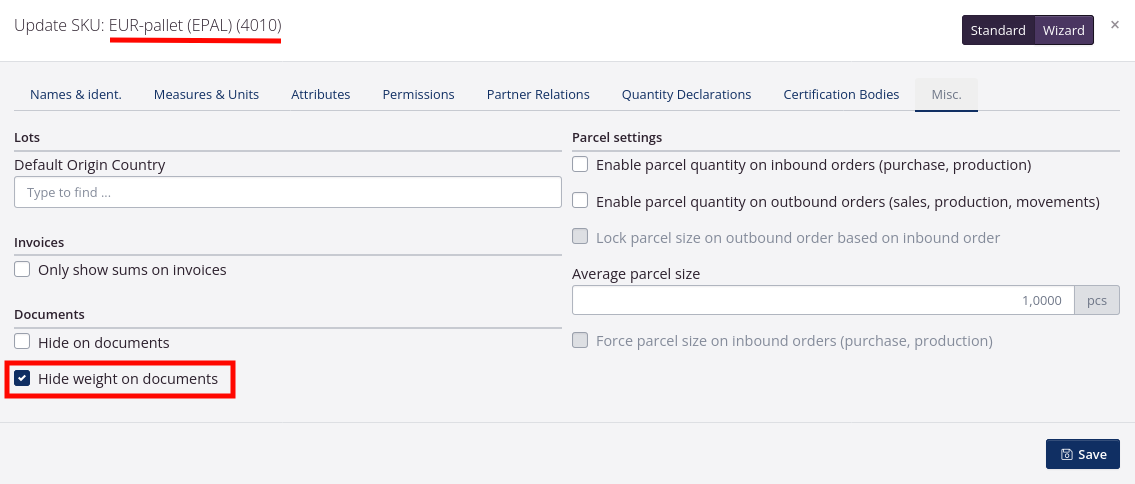 Read more about creating SKUs and the relevant settings here.
Storage Bin location can now be added to lots without traceability
Storage Bin attributes are no longer limited to lots with traceability, e.g. food. Now you can also add the attribute to lots without traceability. This enables a more efficient inventory management of e.g. packaging.

Read more about Stock Keeping Units.
Add a campaign price list to apply for a limited period of time
You can now create a price list which can overrule another price list for a limited period of time.
In Price Lists you can add a new price list to replace a currently active price list from a given date. This is used when updating standard prices.
A new field has been added to enter a to-date, i.e. a date on which the price list should no longer be active and instead be replaced by another price list. This can be useful when a price list should only apply for a limited time period.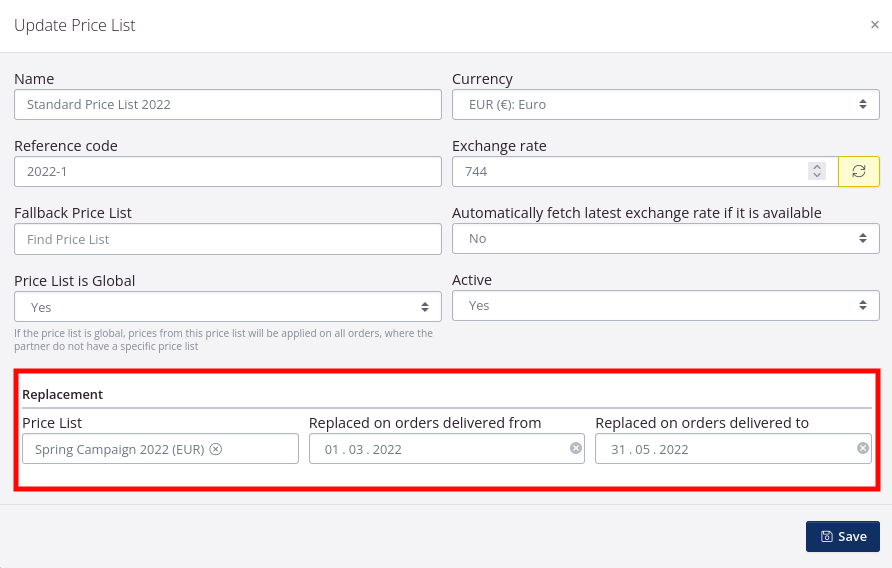 Read more about price lists.
Display of expected duration of tasks and workflows
In tracezilla you can define Master tasks and controls with the add-on Tasks and Controls. The master tasks can be linked to orders, and can automatically be added by a custom set of rules.
The expected duration of a task is now displayed automatically when a tast occurs. the expected duration of completing a task can also be multiplied by the quantity of recipe units by adding a workflow.

Read more about tasks here.
Add a master task as a all-day event
As a supplement to the improvement mentioned above, you can now also define a task which typically requires a full days work. In the week plan an all-day event will be shown separately at the top - just as you know it from a calendar.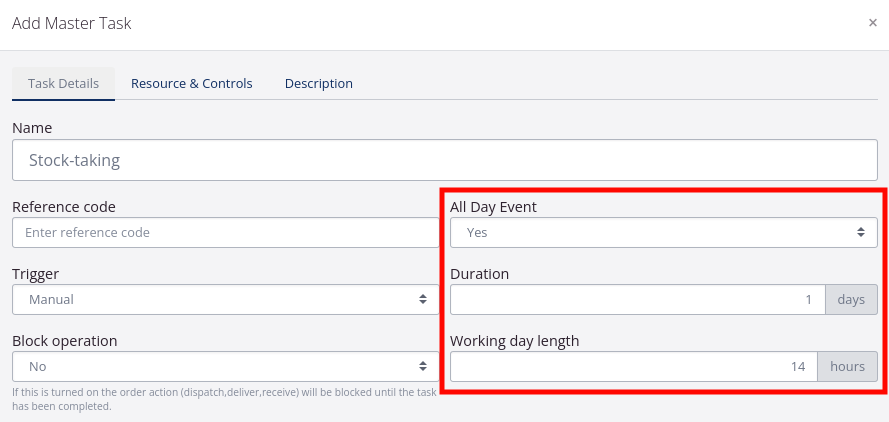 Read more about tasks here.
Assign a colour to a user
Now you can add a colour to individual users in tracezilla. The colours will be visible when a contact from your company is added to an order, and in the week plan accessible in the add-on Tasks and Controls.

The owner of the tracezilla company account can add and edit users. Read more here
Receive our newsletter